Wines of Puglia
The grape harvest here in Puglia is always a feast for the nose. Whether it's Negramaro or Primitivo di Manduria, Primitivo di Gioia del Colle or Malvasia nera, to this day as you stroll through the streets of several towns, the unmistakable scent of fermenting must seems to emanate from every squeaking window hinge.
When the label on the bottle says: "red wine with purple tinges, intense and elegant on the nose, balanced flavour with aromatic notes", it's because those expressions capture the essence of a courtship dance; wine drinkers cannot help but be enamoured of its taste and bouquet, not to mention the marvellous soils which produce it.
When I was a lad, my grandfather used to invite the whole family to come out to the fields with him. We would all turn up, in our three-wheelers piled high with crates, or on our bicycles, secateurs in hand and full of the joys of harvest time.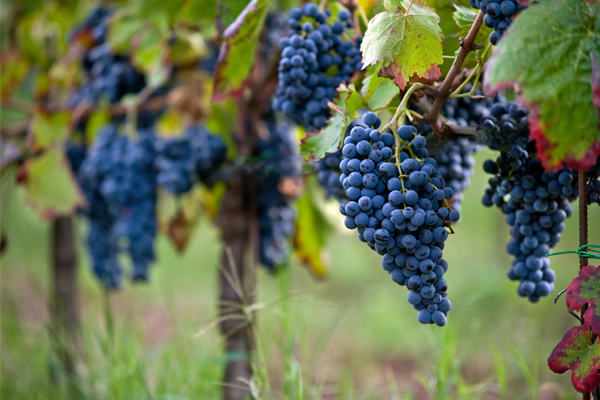 Young and old, we were going to pick grapes, because it mant a lot to our grandad to have us all there: harvesting was a strictly family matter.
We used to cut the grapes from the low vines that produced the Sangiovese red wine, transferring the bunches with their firm, fragrant purple blue berries into the crates.
Many locals would either use the wine for their own consumption or else sell it on. And today's wine-growers, producers and everyone else who helps make Puglia a region famous for fine grapes are carrying on that selfsame tradition with equal dedication.
Apulian vineyards specialize in black grape varieties. There are several geographical areas which make excellent wines, many of which have been awarded prestigious DOC, IGT and DOCG status reflecting the perceived quality of the wines. They use traditional winegrowing techniques, and have been rewarded by such prizes as the Gambero Rosso 2017 Wine Guide's Tre Bicchieri (Three Glasses) award.
After years of being much appreciated (and drunk!) throughout the region, Apulian wines have gone on to win plenty of such awards around the world. Puglia also produces some excellent rosés and whites, such as Ottavianello di Ostuni or Castel del Monte Aglianico rosé, but the quality and popularity of our reds are unbeatable.
We are still very much in love with our rural culture, with the changing seasons so characteristic of our places and mealtimes; so here in Puglia we offer visitors the chance to find out all about production techniques through various initiatives such as Full Day Tours or Harvest Open Cellars; an excellent opportunity to delve into the various wine processing phases, visit the museum and experience the grape harvest.
Breathe in the scent of the must, taste the wine accompanied by typical foods, stroll through the vineyards and find out about the myriad of wines produced in this Adriatic land. Harvesting grapes is a passion handed down from father to son, because, as an old saying goes, "the old man plants the vine and the young man harvests the grapes".