The White City
As you head up out of the vast plain of olive groves, with its gnarled bark and primitive vitality, the trees like majestic guardians of the Earth, what dazzles you most about Ostuni is the light.
It's as if you've reached the princely citadel in a North African fairytale, a city that seems to have been bathed in milk. They've been whitewashing houses here ever since they first needed to protect the city against the plague, and it captures the sun's rays and lightens its otherwise dark alleyways.
Every time I come to Ostuni, it feels like stretching out on a soft, welcoming cushion. When a breeze blows, the scent of the pristine blue sea at the foot of the hill combines with that of the olive groves – the most beautiful gift anyone can afford at any age. And you understand why this land has been inhabited for so long; even back in the Stone Age, the charm of a land overlooking the sea would have been inescapable.
There's the story of the skeleton known as the Donna di Ostuni, gently hugging her unborn baby, with a crown of shells on her head, the Carmelite Monastery with the Church of San Vito the Martyr in Lecce baroque style, the Civic Museum holding relics from pre-Classical civilizations in the Southern Murgia, the Sanctuary of Sant'Oronzo, nestling between two outcrops of the Murge, the Aragonese Walls with their circular turrets, the noble palaces in the old city, and the countless Masserie, some truly ancient, revealing the social structure of yesteryear, based on making olive oil and almonds as well as some fine wine to wash them down with.
On every visit I seem to uncover further traces that over the centuries have become intertwined, that made Ostuni a beautiful home for Saracens, Byzantines, Normans and Swabians alike. Whether in a quest for power or for beauty, they all made this area a jewel of Puglia, a tourist destination that is not easily forgotten.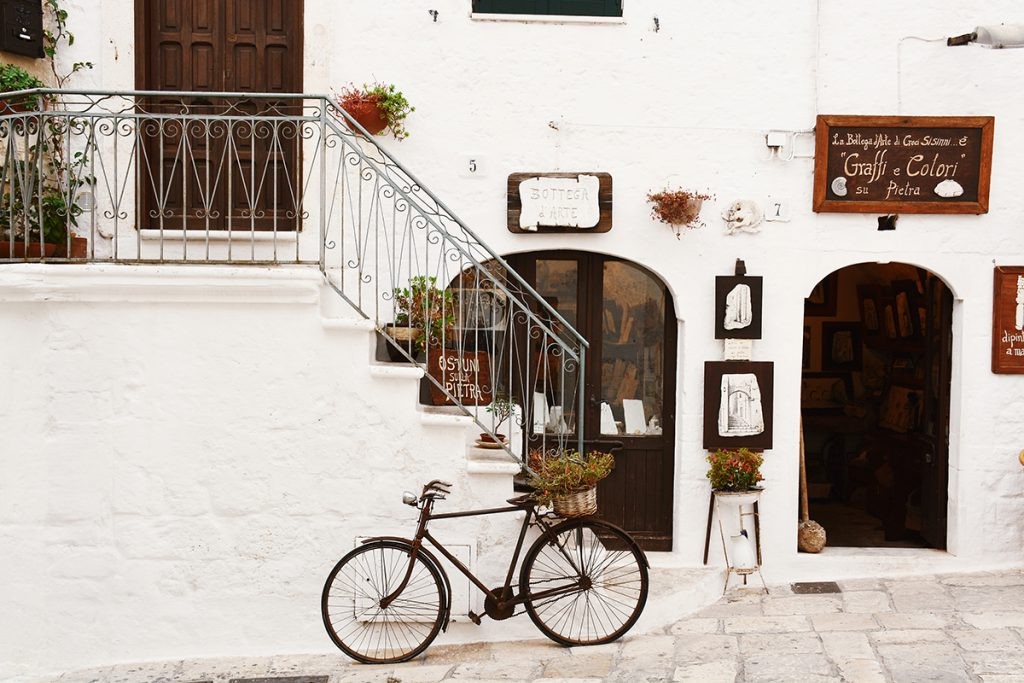 The narrow streets and whitewashed houses dotted with flowering plants and prickly pear, the welcoming restaurants with their delicious traditional cuisine, and the vibrant characteristic shops brimming over with buxom little statues of women known as Massaie Salentine, are all opportunities to enjoy a great day out.
As I walk the streets, I imagine these colourful women as they go about their duties, or sit outside their front doors for a gossip, aprons around their waists, exuberantly shapely and exceedingly beautiful.
A city whose sunny beaches and tourist resorts such as Rosa Marina, or whose enchanting residences such as La Trullara, Vigne di Salamina or Masseriodda Sessana, fill the heart with joy.
A natural sensuous landscape with its cave villages clamouring to be visited, such as the one in Lamacornola; making Ostuni a place you always want to come back to.
Special thanks to Anthony Green for the translation