The Night of the Taranta
"The Night of the Taranta, that's what we need!", said my friend when he phoned.
Come off it! Don't tell me you need to go all the way to Puglia to bring her to her senses! I teased.
"Get packed I said, and stop making a fuss".
But it's in Melpignano, we'd have to drive all the way down to Lecce!
"Don't you realise Gaia's been in that state for weeks? This is her only chance!".
Going to Europe's biggest folk music festival? How's that going to help?
"My gran lived down there and she always said there were cases just like Gaia's. I've even bought a tambourine."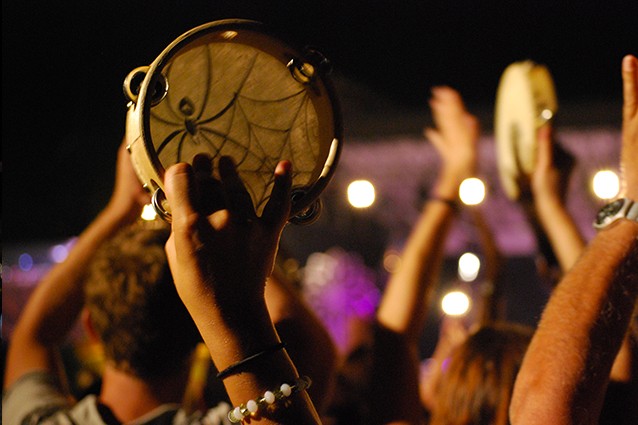 But it's a cultural event… it's about rediscovering and promoting traditional music. All well and good, but what's that got to with your girlfriend's angst?
"Now cut it out, will you? Look at it as a chance for a swim at the amazing Salento seaside – where can you find beaches like that around here, then?".
OK, OK, keep your shirt on! I'll throw a couple of T-shirts and my swimming togs into a bag and we'll be off.
"You just wait and see – everything's going to turn out fine; Gaia will start dancing with all those people, and nobody will notice a thing. Dancing the pizzica will help free her mind. It's a festival with 150,000 spectators. You reckon everyone goes just for the concert, do you?"
Well, I've heard it's a megaconcert, with top names on the music scene from Italy and all over the world. Every year, the festival appoints a concertmaster whose job is to reinterpret the classics of the local musical tradition with the Night of the Taranta folk orchestra. Some household names have done this in the past – Ludovico Einaudi, Goran Bregovic, Phil Manzanera.
"I see you're in the know!"
Of course, how could I not know about the Notte della Taranta! So tell me, do you know what the therapeutic ritual of tarantism involves, all of its rhythmic, musical and colour-based features, those objects they place round the edges, and so on?
"What objects? What are you on about?"
No kidding! How about the handkerchiefs they use to find out what colour spider it was that bit your girlfriend? The water barrels, the jars of aromatic herbs. To see if it was a libertine, a sad and silent or a tempestuous spider.
"That's enough of your chatter, we'll pick you up in half an hour. Byeee!" Click!
For goodness sake, I just knew it, he doesn't know the first thing about Tarantism or the Night of the Taranta, does he? And all she's looking for is an excuse to indulge in a bit of revelry, so she's pretending her fits were caused by being bitten by a spider. All they needed to say was that they wanted to go to Puglia, I would have agreed in a flash; I love southern Italy. I was born right after my mother danced a pizzica when she was nine months pregnant carrying me. Some things you simply feel in your bones.
Special thanks to Anthony Green for the translation