Putignano Carnival
The Putignano Carnival expresses my very essence, because I was born right in the middle of a masquerade.
Italy's longest-lasting carnival, one of the oldest anywhere in Europe, starts on the 26th December, St. Stephen's Day.
It's a succession of pure fun and satire, processions and parades in a continuous fusion of the sacred and the profane.
"Papà, Grandma told me that when she was young she used to go dancing at carnival parties".
Laura laughs, and the hat I'm making for her starts to slip off her head. "She told me they had so much fun at those parties, and she went along even when she was pregnant. Is that true?"
"That must be why I like dancing so much, your grandmother danced away with me in her tummy for nine months; I was born in February, remember?"
My daughter looks at me in amusement and surprise, and I realise it's hard for her to imagine her grandmother dancing with a fat belly.
I like carnival, I always used to love dressing up as Farinella.
"Papà, my favourite Carnival character is Farinella. I saw the photos in your album – weren't you about the same age as me?".
"Yes, Laura. So that's why you wanted me to make you the hat, is it?".
She smiles sheepishly, and I hold her tight, breathing in the vanilla perfume she sprays on her neck.
Farinella is the symbol of the Putignano Carnival. He's named after Putignano's most symbolic dish: flour (or farina in Italian) made by roasting chickpeas and barley, and then finely crushing them into flour with a pestle and mortar. This farinella was once the staple diet for many farming families.
"Daddy, why has his hat got three points with bells on?". Laura's unbridled curiosity seems limitless today.
So I tell her it's a mix between Harlequin and a Jester, with a "skirt" in red and blue – the official colours of the city – while his three-pronged hat symbolizes the hills on which Putignano stands.
I'm enjoying myself, because it's taking me back in time to when I was the most mockingly sardonic Farinella of all during the parades of allegorical floats.
"My teacher told us they're expecting even bigger crowds this year".
She screams, unable to keep still so excited is she.
Yes, thousands of visitors come to the Putignano Carnival from all over Italy and elsewhere, and not just to admire the beauty of the allegorical floats, true works of art made by master papier-mâché artists.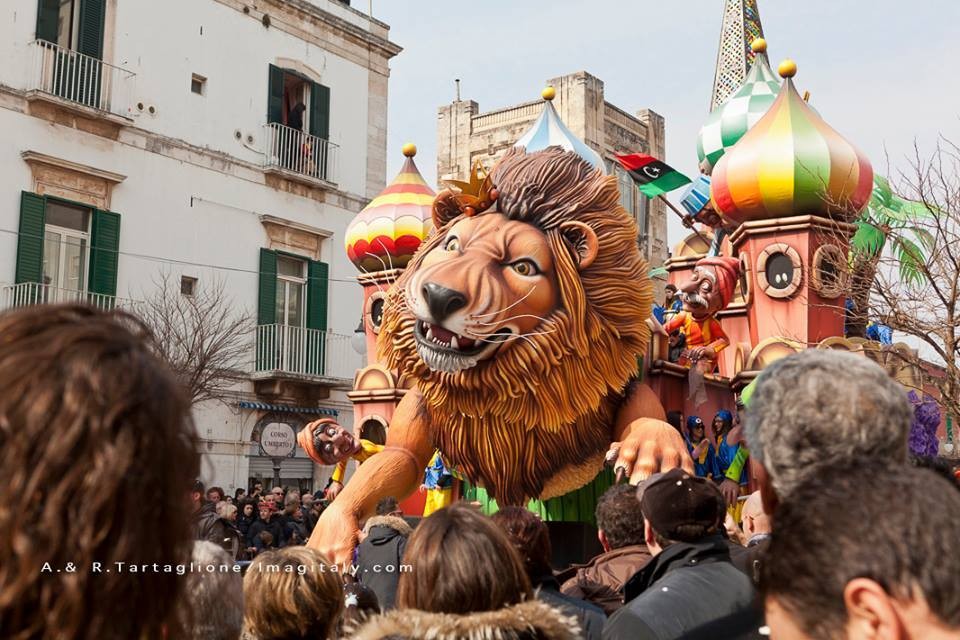 "Did you know that many years ago the puppets on the floats used to be made just with straw and rags?", I ask her.
"Yes, we studied that it all started in 1394, at the time of the Saracen raids. When the relics of St. Stephen were brought here on 26th December to mark the Feast of the Propagation of the Vines, that the peasants stopped working to join in with the sacred procession and as they danced along and sang away, they improvised satirical verses in the local dialect".
"Well done, little one!"
There's an overwhelming sense of fun, with streets full of confetti, a tangible symbol of joy, until Shrove Tuesday, when we all celebrate the funeral of the Carnival.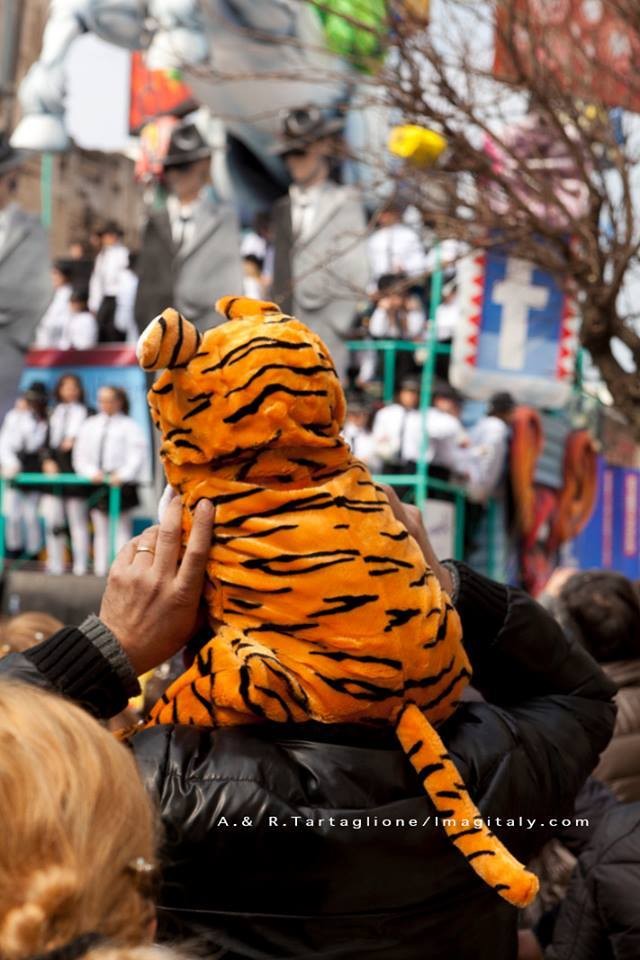 The Carnival in Putignano highlights the art of papier-mâché, which reached its peak in the 1950s, when the technique of chicken-wire frames covered in newspaper was improved on with the addition of clay. Today's more advanced techniques, combined with traditional manual skills, enable the craftsmen to create fantastic allegorical puppets, spitting images of the public figures they lampoon, each equipped with ingenious mechanisms to give them their fascinating movements.
"Papà, get a move on! The first masked group is on its way!" Can you hear the music?". And she runs enthusiastically towards the balcony, proud of her costume.
I'd love to give her a big hug and hold her tight, but it's time for her to go out and have fun, mingling in with the noisy crowds, living her Carnival to the full. We all need to get out there and share confetti and smiles.
Special thanks to Antonio & Roberto Tartaglione Photographers.