Locorotondo the Wine Capital
The wine centre that is Locorotondo is built around a ring of white houses. Locorotondo's old town has recently become a member of an exclusive club, I borghi più belli d'Italia (Italy's most beautiful town centres) and has also been awarded the Touring Club Italiano's Orange Flag.
After we'd taken a look at Palazzo Morelli and Madonna della Greca (Our Lady of Greca), the oldest church in town, Mummy and I went for a stroll along what they jokingly call the seafront (or "Lungomare"), overlooking the Itria Valley – though, truth be told, you can sometimes make out the sea in the distance. At the bottom of the slopes, we noticed red roses growing among the black grapevines, against a backdrop of trulli, olive trees and masserias. It was such beautiful scenery that it almost seemed to bring a tear to Mummy's face.
Daddy wanted to photograph the cummerse houses with their dry sloping roofs, so he stayed back in the little alleyways, which in the evenings suddenly fill up with tables where we go to enjoy the typical local cuisine.
She's so beautiful when she smiles, enchanted by the vines. Just then, along came Daddy, looking very pleased with himself for managing to get himself into the Clock Tower.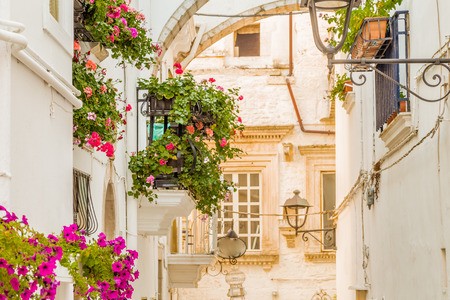 He asked if we wanted to help with the grape harvest, as he'd discovered Locorotondo's "Vendemmia in terrazza" (Harvesting on the Terrace) association, which gives tourists the chance to pick grapes alongside the locals. She was so excited, that we literally ran all the way down; Daddy started chatting to a winegrower who kindly went over what we needed to do, handed us some tools, and found us a place to start between the trellises. There was a nice mix of Locorotondians and tourists.
Mummy tied a scarf round her head and almost caressed the bunches off the vine, while Daddy tried to imitate the locals with their quick, confident, snipping movement. I wasn't allowed to use the secateurs, so I transported the bunches in smaller buckets. And that's how I bumped into Cécile, a young French girl.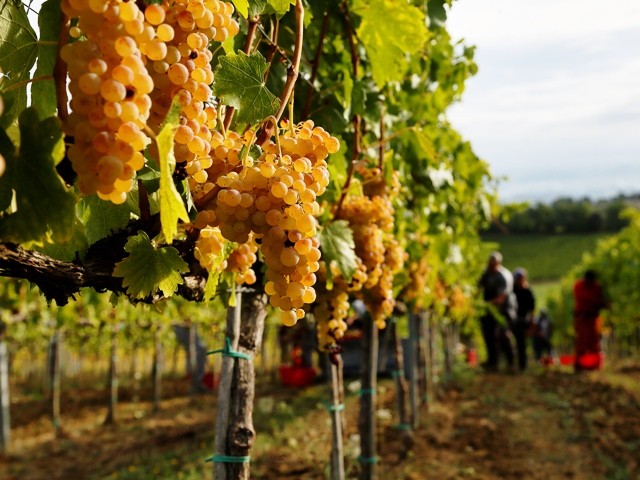 I was transfixed by the luscious bunches and the red roses that decorate but – most importantly – which protect the vine against attack from parasites, which is why they're called early warning systems. The winegrower told us he makes the grapes into primitivo, white, and sweet wines.
It was just beautiful and Mummy was overflowing with joy; I even saw her hugging Daddy and they looked just so happy together. Locorotondo and this holiday here in Puglia have brought peace back into the family.
Anyway, tonight there's going to be a party at one of those lovely old masserias where apparently we're going to be meeting Cécile. So there's only one thing for it – I'm definitely going to give her a kiss on the cheek, as well as a puppet I bought her in a handicraft shop.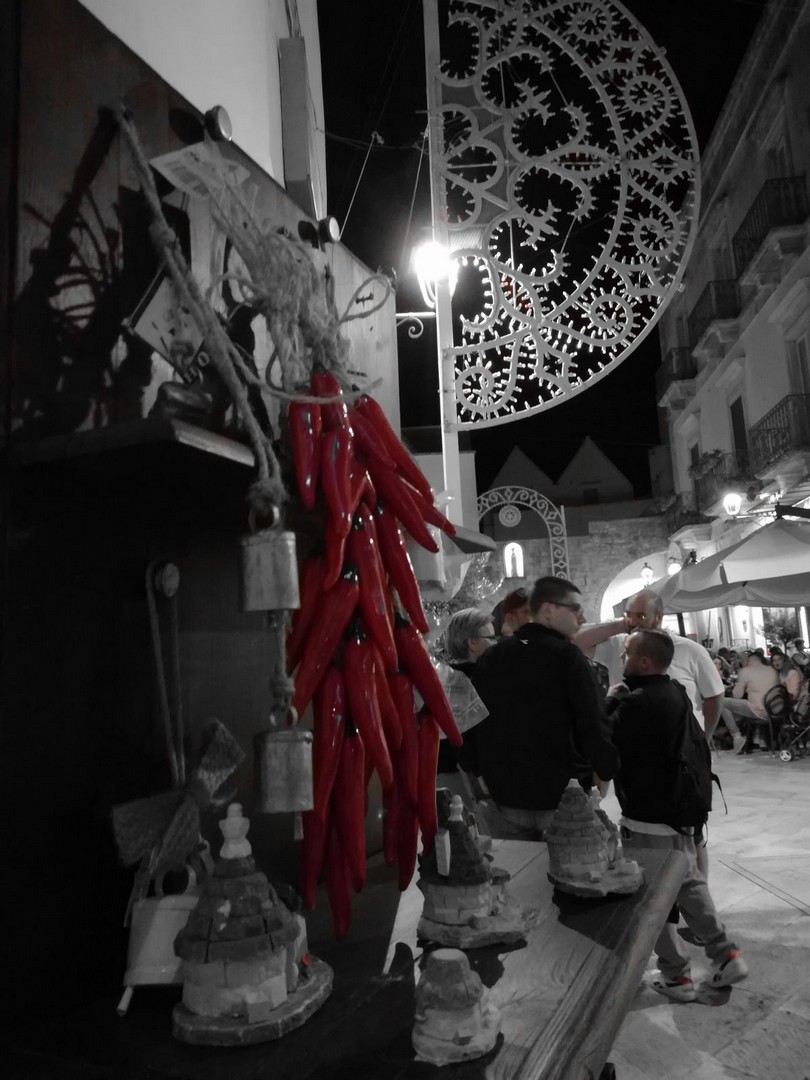 They tell me we're going to stay until the Feast of San Rocco, so that we can enjoy the area's most ancient fireworks contest.
And I want to follow Diana, the band that wends its way through the streets in the early morning to announce that the feast has begun, and then in the evening we can have a little stroll beneath the beautiful illuminations. There will always be a place in my heart for this town, which gave me back the warmth of my family, not to mention my first crush, of course.
Special thanks to journalist Grazia Rongo  for her advice