Christmas in Puglia
You can feel Christmas in Puglia even at the end of November, when the first lights appear on balconies and the air fills with the smell of chimney smoke mixed with fragrance of mandarin. The Christmas air wafts its way through the streets embellished with illuminations and sparkling trees, decorations in shop windows, and a huge range of market stalls.
Puglia is a region that takes these festivities to heart, as shown by the numerous public celebrations that take place in every town and village.
Cultural events abound, including concerts, childrens' and adults' choirs, theatrical events, sacred representations and presepi viventi (living Nativity scenes), and especially religious rites, beginning with the Advent Wreath and Christmas Novena, which in some towns is celebrated at five in the morning, as well as Midnight Mass, when to the tune of the celebrated carol "Tu scendi dalle stelle" ("You come down from the stars"), the baby Jesus is laid in the manger of cribs all around Puglia.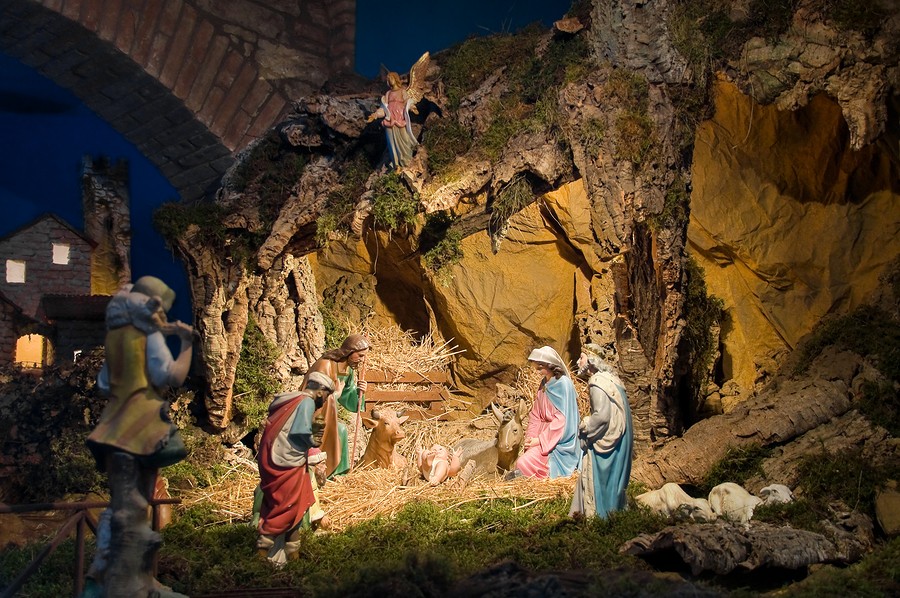 In Puglia there is a long tradition of the Nativity scene which takes pride of place even in families with the most garish of Christmas trees. In Lecce, for example, there are a lot of makers of papier-mâché statues, which help make wonderfully evocative Nativity scenes.
What also characterizes Apulian Christmases is the culinary tradition with its traditional flavours. Food shopping in Bari on a Christmas Eve is truly a rite, starting early in the morning at the fish market.
Christmas Eve dinner involves many different dishes: fried cod, fennel cooked with anchovies, panzerotti (a sort of cheese and tomato turnover), linguine with fish sauce, raw seafood, turnip tops, eel and many more; these dishes will vary from one part of Puglia to another.
Traditional dishes will vary from place to place, but they all share the same common denominators: love for the Christmas tradition, enjoying some fine Apulian wine in good company, followed up by some home-made liqueurs (lemon, chocolate, mandarin or bayleaf), and staying up until dawn playing cards or traditional tombola.
A whole range of different recipes for culinary delicacies and delights make Christmas a gastronomic wonderland, starting with the famous cartellate: ribbons of dough made from flour and wine, folded into a rosette shape, fried and then plunged into fig, quince or carob vincotto. Some people use honey instead, with a sprinkling of hundreds and thousands.
Calzoncelli, pettole, vinarielli, taralli with either black pepper, anise or sugar, marzipan and almond torrone (nougat) are just some of the treats a visitor can expect to be offered over the holiday period
I remember how my grandmother used to start making the cakes a month earlier and she would carry them along to the bakers who would pop them in the oven for her. I used to gaze in wonder at the throngs of women carrying large rectangular baking trays along the streets.
The enticing scents wafting through the December air, together with those of the moss and pine branches that embellish our Nativity scenes, make Christmastime magical for anyone lucky enough to be in Apulia at this time of year.