Apulian Olive Oil
Extra-virgin olive oil is the most characteristic of all Puglia's food produce, its intense bouquet an act of generosity to our senses. We cannot help but enjoy it – indeed, using Apulian olive oil for Mediterranean cuisine is like putting on a crown and feeling like a king.
I can't imagine Puglia without olive trees, both the majestic ones, and the slimline but just as productive ones.
The olive tree has been cultivated here since the first millennium BC, and there are ancient trees whose imposing presence almost takes your breath away.
Living beings, breathing with us, wrapped in a blanket of wind that twists and turns them until they look as if Mother Nature had purposely sculpted them that way. Olive trees that tell of years of back-breaking toil and of undying love.
There are over 50 million olive trees here in Puglia, making it the world's leading producer of olive oil. 
Pruning, harvesting and squeezing the olives, then bottling the juice – actions we carry out with a sort of atavistic dedication. For us Apulians, every single drop of olive oil is precious, so much so that this has led to a thousand and one stories being invented to prevent waste – spilling olive oil brings bad luck, for example.
Pour a little oil onto a slice of bread and savour the taste: it will uncover a world of flavours and images that you will no longer be able to do without.
Puglia is full of olive groves that express the nature of the soil and the very image of the region, fields of olive trees bordered by dry stone walls, in a fascinating, timeless landscape. Majestic trunks supporting luxuriant, silvery-green foliage glistening in the sun; and when the rains come to the olive trees, Puglia is blessed by love and flavour.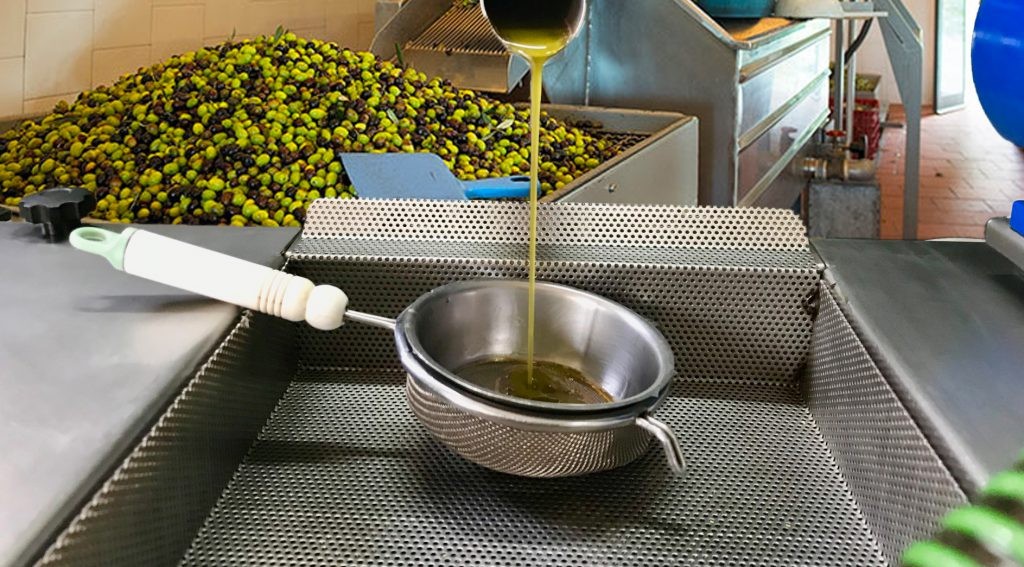 There are several types: Protected Designation of Origin (PDO) Collina di Brindisi extra virgin olive oil, for example, produced in Cisternino, Ostuni, Ceglie Messapica, San Vito dei Normanni, is made mostly from the Ogliarola, Cellina di Nardò, Coratina and Leccino varietals.
Dauno PDO extra-virgin olive oil, on the other hand, comes from Foggia province.         Terra d'Otranto PDO extra-virgin olive oil is produced in the Salento using Cellina di Nardò and Ogliarola.
While the oils in the Terra di Bari PDO are from olives such as Coratina, Cima di Bitonto and Cima di Mola; brands include Olio di Castel del Monte, and Olio della Murgia dei Trulli e delle Grotte.
We can also choose from various types of olive oil: we might prefer a harmonious, intense taste, or an olive oil with an almondy scent, or else a decidedly fruity oil for true connoisseurs, or the slightly pungent, bitter oil that itches the back of your throat, or a sweeter green oil.
Apulian olive oil is also exquisitely healthy, with its high oleic acid content, which helps prevent cardiovascular diseases as well as lowering the amount of bad cholesterol in the blood.
Our oil comes in various qualities: the more delicate golden yellow oils, good for raw dishes; the more intense yellow oils, ideal for steamed dishes and the greenish ones, great for roasts or preserving vegetables.
Take a little oil and sniff it: images of bread and tomato might come into your mind straight away. Does it have that velvety consistency that makes it feel like you're tasting it already? Dip a fingertip in and have a taste: it will be bitter sweet with a tingle of saltiness, dry leaves and the white drapes which were once used for the olive harvest.
The flavour reminds us of playing in the kitchen while Mum cooked our dinner or relaxing in front of the fire. Apulian gold makes everyone happy.