Living in a trullo, is a unique experience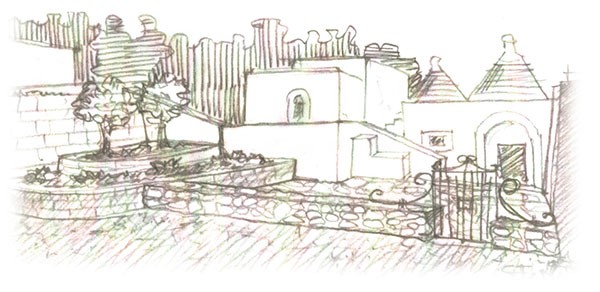 Little rooms with a domed ceiling; conical roofs built out of blocks of white calcareous stone, crowned by curious pinnacles of all different shapes; metre-thick walls, either white or in warm colours, which keep the inside cool during the heat of summer, but warm in winter; recesses in the walls used for shelving and cupboard space; set in pleasant age-old welcoming countryside, with an assortment of seasonal fragrances.
Philosophy
In the scenic Itria Valley, a group of friends, filled with love for the area, decided to restore and live in a physical and emotional space, using thought and action to choose true alternatives to the everyday homes available.
Living and working, sharing their homes and knowledge with anyone looking forward to travelling to, exploring and staying in the area – that is the spirit that unites your hosts.
Il nostro soggiorno a vigne di Salamina è stato al di sopra delle nostre aspettative. Posto incantevole, silenzioso, accogliente, rilassante ma non noioso in grado di catturare la soddisfazione anche di due ragazze adolescenti che non avrebbero voluto fare ritorno in città. Grazie ai consigli di Nicla, ottima e discretissima padrona di casa, abbiamo scoperto ed apprezzato le bellezze del luogo..... sappiamo che c'è ancora molto da vedere e speriamo quindi di potervi fare ritorno.

Sign the guestbook